Just got back home from a room full of fired up women entrepreneurs!  I'm talking about Spark & Hustle
Tory Johnson is the visionary behind Spark & Hustle a national conference for business owners.   I was delighted that one of the stops on the tour was local for me in Washington, DC.   Here are a few highlights from this 2 day conference.
At the registration table there were tons of Sharpie markers in different colors to sign our badges… of course I had to take advantage of that 😀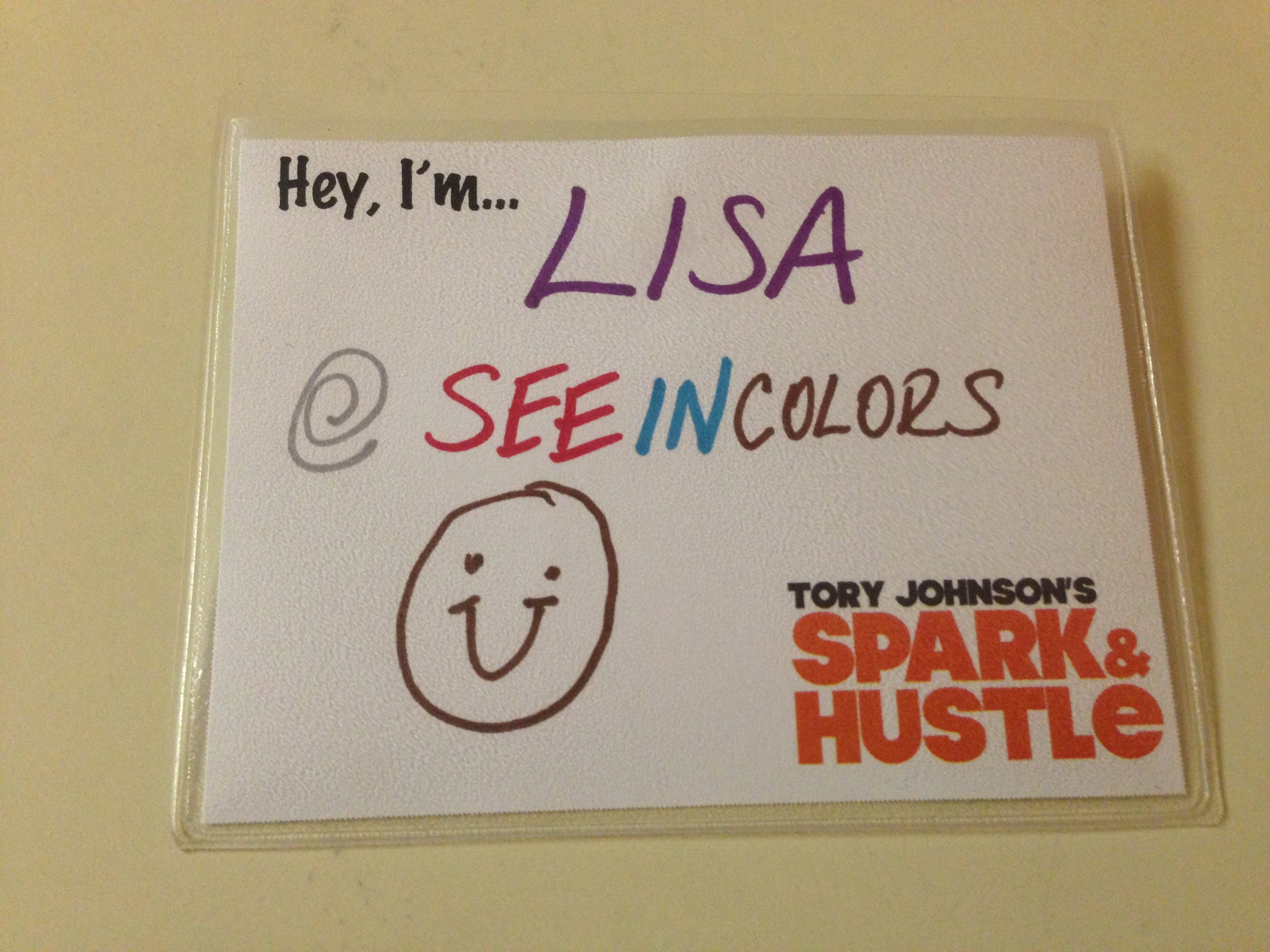 I decided to take a break from drawing sketchnotes during this conference, so I left all my professional supplies for drawing at home.  I just wanted to focus on connecting with people and learning strategies to grow my business.   But… I couldn't help myself.  I'm a visual learner and before I knew it, pictures were popping up in my notes!  Take a peek.
I think everyone in the room got a chuckle from hearing Tory's networking strategy in her early days of business.  The WAITERS don't count.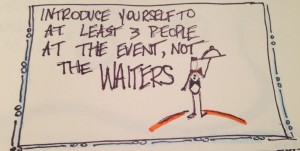 Sarah Chapin from Hail Merry  shared so many tips and quotes that I loved.  Sarah told us "It doesn't matter how small you start if your dream is BIG."  I also loved the chocolate macaroons that were placed at our table, compliments of Hail Merry!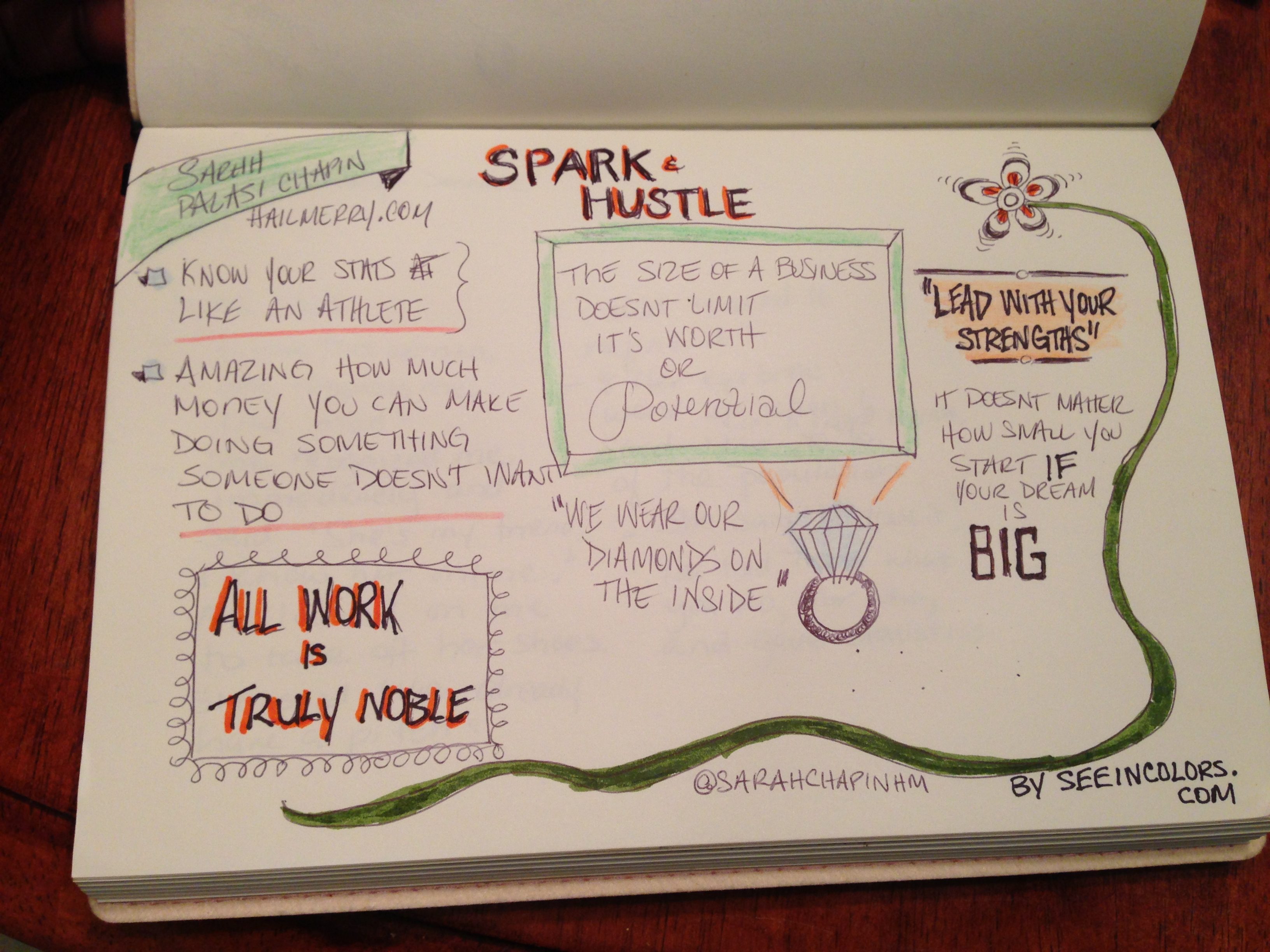 Lena West  and Coach Jenn Lee did a fantastic job during the pitch session.  They helped many of the women in the audience iron out a crystal clear pitch.  I love how they both made themselves available to answer questions even after the session was over.
Sam Horn showed us the power of using stories.  Sam advised instead of asking someone what they do, say "give me an example of what you do?"  She also said "It's time to evolve our marketing" and go from explanation to examples.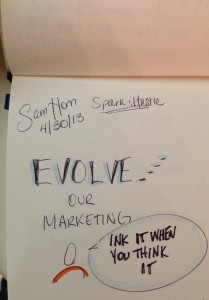 During the 2 day event, Tory strongly encouraged and reminded us to sit at a new table after each break and meet new people.  I took her advice and it made all the difference in the world.
So I want to give a shout out to just a few of the many fabulous entrepreneurs I met like Tceniccola, SunshineHope,  ElegantGranny, AdtechConsults, TheDesignHall, NextBrides, Heidi Pommer, Saralyn Collins, Scribbles and Works and Linda Pritchett.
What was your biggest take-away from Spark and Hustle?  Please share and comment below.
The following two tabs change content below.
Lisa
Visual Thinker | Graphic Recorder | Sketchnote Artist
at
See In Colors
Lisa Nelson loves to combine art with life. Lisa captures conversations with hand-drawn pictures so people can "see" what's being said. Her visual summaries range from business and leadership to community and faith. Her work has been featured in Entrepreneur, Ogilvy & Mather, and Social Media Week. She works locally in the Washington, D.C. area and world-wide.