Update: For 2018 my word for the year is CONNECTION.
***********
Let me tell you…. I stopped making New Year's resolutions many years ago.
I know it works for some people but as for me… nah.
I still have my resolutions from the 80's that I never finished. Oh my!
Last year I decided to set an intention for the year around one word. DO. I drew a picture of my word and shared it with my friends and family. There's something about sharing that helps you stay accountable and makes you push a little harder.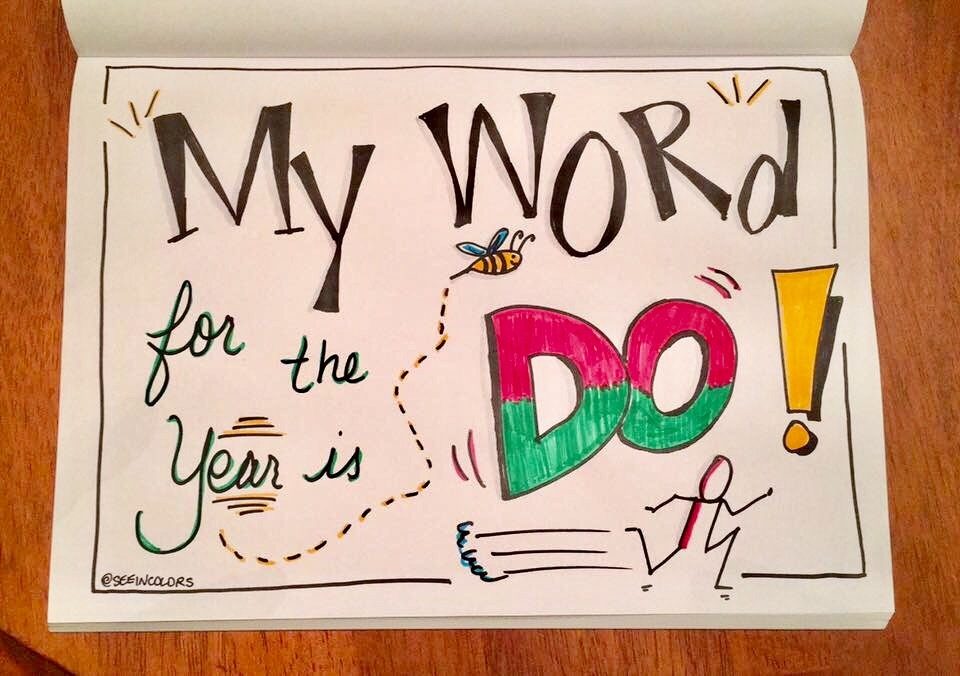 My word in 2016
Now it's your turn. Choose a word for the new year. Need some ideas for your word? Here are a few. FAITH, ACTION, PEACE, REST, FOCUS, CONSISTENT, DETERMINED, HEALTHY, BRAVE, PRESENT, INTENTIONAL, GROWTH, FORWARD, SLOW, IGNITE, and JOY. There you go, that's should get your wheels turning!
My word for 2017 is EXPANSION. Yep yep! I will share my sketch with you once I'm done.
I created a blank template that you can use for this year. Click here for the full size PDF you can print on 8.5 x 11 paper.
Templates (worksheets) like the one above can also be used for training and coaching. Templates help you visualize and work through a process, goal, or strategy. Try using templates with your clients, to learn more just
contact me
.
The following two tabs change content below.
Lisa
Visual Thinker | Graphic Recorder | Sketchnote Artist
at
See In Colors
Lisa Nelson loves to combine art with life. Lisa captures conversations with hand-drawn pictures so people can "see" what's being said. Her visual summaries range from business and leadership to community and faith. Her work has been featured in Entrepreneur, Ogilvy & Mather, and Social Media Week. She works locally in the Washington, D.C. area and world-wide.