All I can say is "Wow".  I had to share my visual notes from the 2012 Global Leadership Summit (WCGLS).   Let me say it again, "Wow".
This was my first summit with WCGLS and I can't wait till the next one.  I attended the summit at my local church (First Baptist Church of Glenarden), which was a host site for the event.   The theme of the summit was "Lead Where You Are" and it applies to so many areas of life.  It doesn't matter if you are a church leader, business owner, student, or volunteer.  We can all lead where we are.
I was so impressed with Bill Hybels.  Not only for delivering a powerful message but also for DOODLING.  That's right.  In front of over 160,000 people, he illustrated "sowing more seeds" and made us laugh while doing it.  He drew a stick man, dots for seeds, and a scribbly tree on his flip chart.  Bill Hybels understands the power of visual thinking…Yay!  Gotta love that.
Look below and you will find my visual notes from Day 1 of  Bill Hybels, Jim Collins, and Craig Groeschel.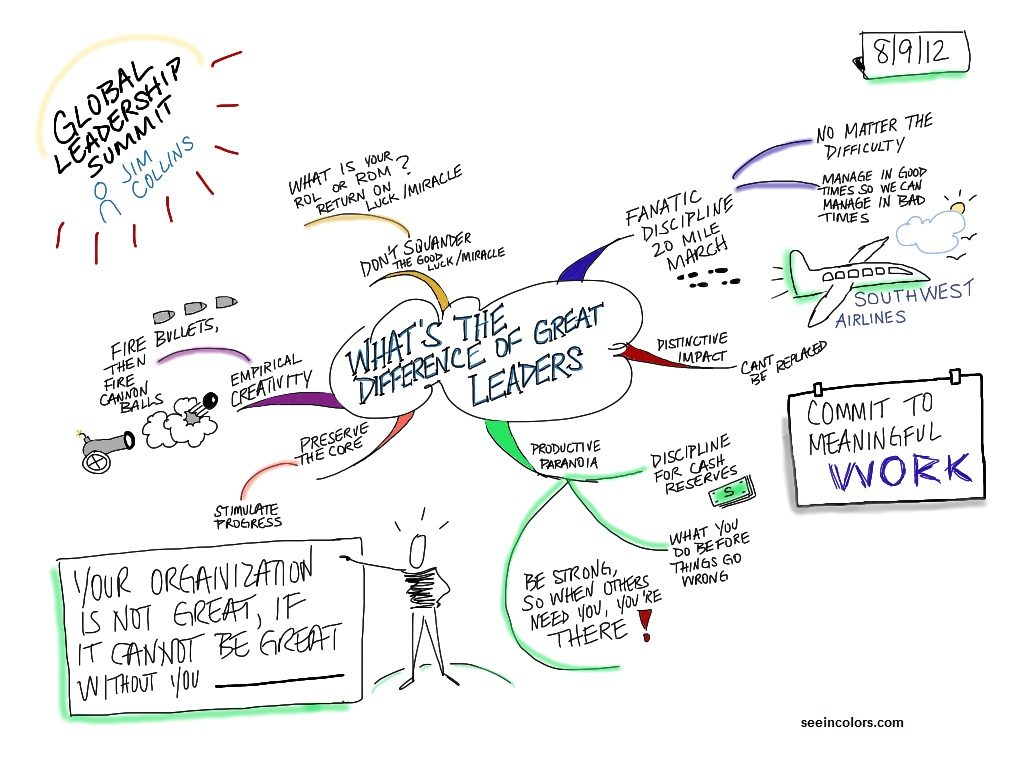 Don't miss my post Visual Quotes from the Global Leadership Summit – Day 2.
Resources & Affiliates

Too Busy Not to Pray
"Too Busy Not to Pray" by Bill Hybels was a part of my mother's book collection and it's one of my favorites on prayer.

Good to Great: Why Some Companies Make the Leap… and Others Don't
"Good to Great.." by Jim Collins gives sound business advice based on his research of great companies. This was a good read and I recommend it for any business owner.
What's your biggest takeaway? What are you going to put into action? Leave a comment below.
The following two tabs change content below.
Lisa
Visual Thinker | Graphic Recorder | Sketchnote Artist
at
See In Colors
Lisa Nelson loves to combine art with life. Lisa captures conversations with hand-drawn pictures so people can "see" what's being said. Her visual summaries range from business and leadership to community and faith. Her work has been featured in Entrepreneur, Ogilvy & Mather, and Social Media Week. She works locally in the Washington, D.C. area and world-wide.