I can never hear enough good business advice.  I love to hear it and I love to share it 😀
Are you having challenges with a new concept for your business, or experimenting on new products?  Whatever it is, never give up.
Everybody makes mistakes, what is important is to learn from those mistakes.
Thomas Edison said: "I have not failed, I've just found 10,000 ways that won't work."
Here is a quote I heard from Patrick Snow.  He said "Test and Measure, Trial and Error", then he repeated it for emphasis "Test and Measure, Trial and Error."  I was inspired to draw this image to capture the idea.
Patrick Snow is an international best-selling author of the book Creating Your Own Destiny: How to Get Exactly What You Want Out of Life and Work.  He is also a publishing coach, internet entrepreneur and one of the featured talents at Speaker Match's podcast.
For a larger view, click the image to expand.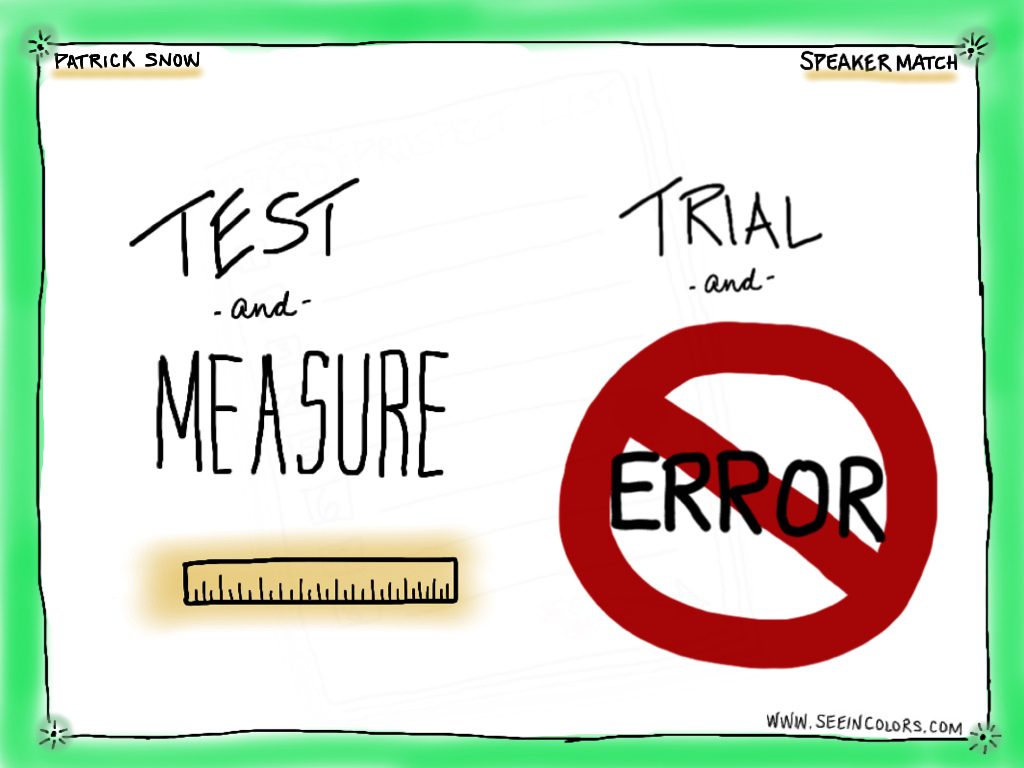 What important lessons have you learned at being persistent in work or in business? What are you testing out right now?  Please share and comment below.
The following two tabs change content below.
Lisa
Visual Thinker | Graphic Recorder | Sketchnote Artist
at
See In Colors
Lisa Nelson loves to combine art with life. Lisa captures conversations with hand-drawn pictures so people can "see" what's being said. Her visual summaries range from business and leadership to community and faith. Her work has been featured in Entrepreneur, Ogilvy & Mather, and Social Media Week. She works locally in the Washington, D.C. area and world-wide.