It's exciting to see art, culture and community development come together. That's exactly what happened at NeighborWorks America #DCNTI. The agenda was interactive and creative.  See In Colors supported the conference by drawing visual notes real time (graphic recording) for attendees.  This convening was held on December 14, 2017 at the Renaissance Downtown Hotel in Washington, DC.
Click on the image below to watch the quick video of visual notes.
Our closing for the day was a community poem created by all participants.  As the poem was read aloud, I listened and captured some of the highlights in this graphic recording.  I loved seeing the creativity throughout the day, because "out of the box" thinking is how we move toward new ideas and solutions.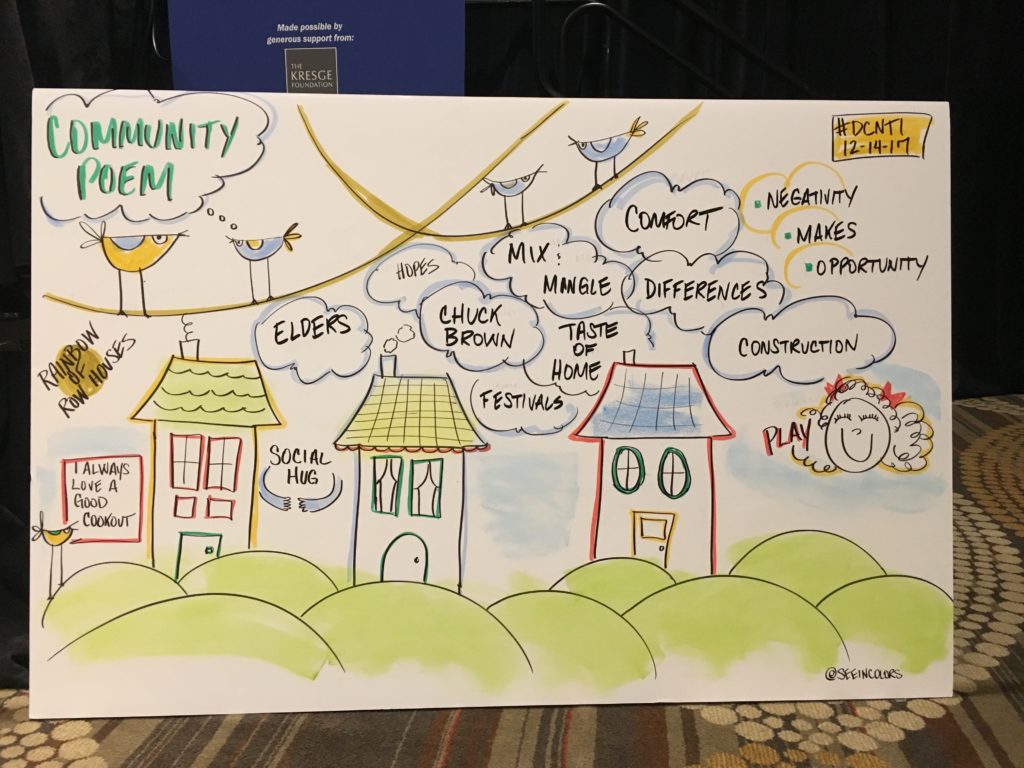 Thanks for reading!  If you find this valuable, please share.  We love referrals.
Are you planning a meeting or conference?  Keep your attendees engaged, they need to SEE the big picture.  Just contact me for a free consultation.  I'm happy to help.
The following two tabs change content below.
Lisa
Visual Thinker | Graphic Recorder | Sketchnote Artist
at
See In Colors
Lisa Nelson loves to combine art with life. Lisa captures conversations with hand-drawn pictures so people can "see" what's being said. Her visual summaries range from business and leadership to community and faith. Her work has been featured in Entrepreneur, Ogilvy & Mather, and Social Media Week. She works locally in the Washington, D.C. area and world-wide.