This week I had the privilege of working with Wildman Event Group and GE for the #AdvancedManufacturing Summit. Speakers included Congressman Tim Ryan of Ohio and Steve Case, founder of AOL. This event brought over 300 attendees together to discuss the future of Advanced Manufacturing (#futurefactory).
The Advanced Manufacturing Summit was held at Dock5 Union Market, Washington DC.  This was my first time at this event space and it was an awesome venue.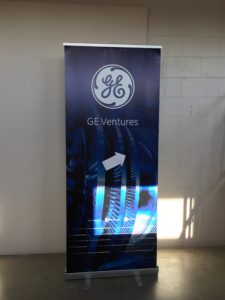 Here is the completed chart showing the key points from the presentations, panel discussions and input from attendees.
I even saved space for ideas from attendees during the reception.  My favorite response from an attendee was about the future of Advanced Manufacturing, his answer was "Making things is going to be COOL".
What stands out for you in the chart? Leave a comment and let me know.
The following two tabs change content below.
Lisa
Visual Thinker | Graphic Recorder | Sketchnote Artist
at
See In Colors
Lisa Nelson loves to combine art with life. Lisa captures conversations with hand-drawn pictures so people can "see" what's being said. Her visual summaries range from business and leadership to community and faith. Her work has been featured in Entrepreneur, Ogilvy & Mather, and Social Media Week. She works locally in the Washington, D.C. area and world-wide.