The year is winding down… so fast.  How did that happen?
I am reflecting on all of the good times and the challenges of the year.  It's easy to think to yourself "Oh, it's too late for me to  _______ (fill in the blank).
Well, it's never too late!  Consider this…
Henry Ford was 45 when he created the revolutionary Model T car.
Morgan Freeman's acting career didn't take off until he was 52.  That year, he appeared in the films Glory, Driving Miss Daisy and Lean on Me.
Julia Child worked in advertising and media before writing her first cookbook when she was 50, launching her career as a celebrity chef.
Here is a drawing I created that sums it all up.  I hope it inspires you to do greater things starting TODAY.  It's never too late to start something great!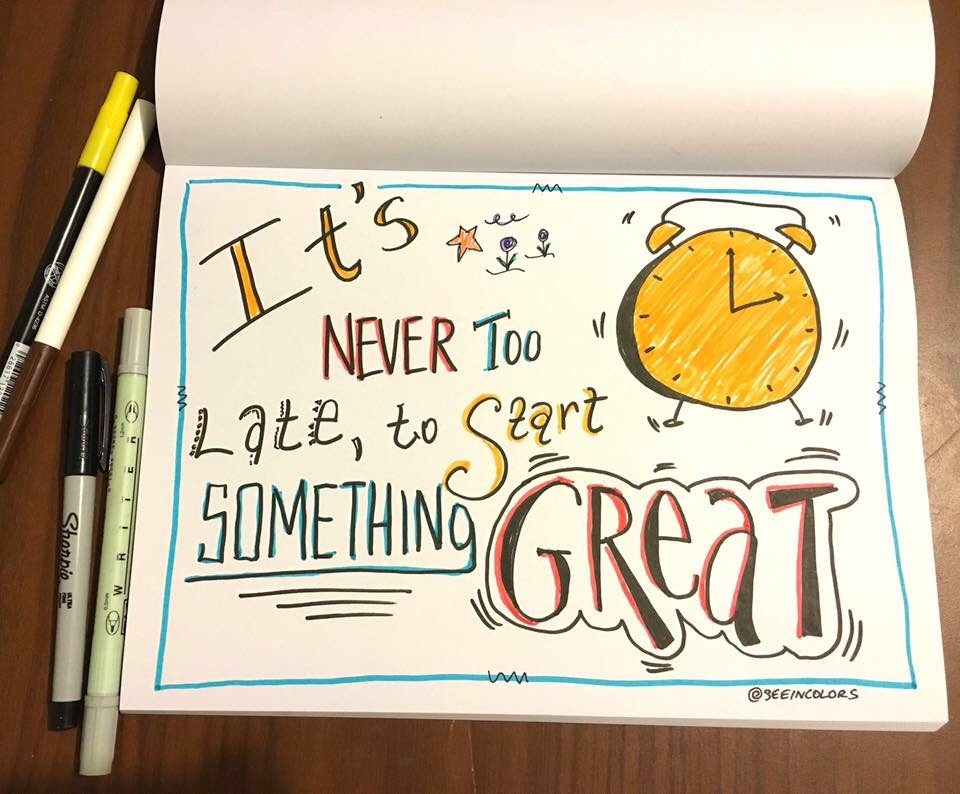 What will you start TODAY?
The following two tabs change content below.
Lisa
Visual Thinker | Graphic Recorder | Sketchnote Artist
at
See In Colors
Lisa Nelson loves to combine art with life. Lisa captures conversations with hand-drawn pictures so people can "see" what's being said. Her visual summaries range from business and leadership to community and faith. Her work has been featured in Entrepreneur, Ogilvy & Mather, and Social Media Week. She works locally in the Washington, D.C. area and world-wide.