How can you make sure the people in the room will remember the key points of your meeting?
According to Hubspot, 80% of users recall a video they saw in the last 30 days.  I'm not surprised at all.  As a matter of fact, I started my graphic recording business as a result of stumbling on a YouTube video and I still remember it!  Here is another factoid from Insivia, 75% of executives watch work-related videos on business websites at least once a week.
So… I found a really effective way to EXTEND graphic recording with video.  You might be saying, "what is graphic recording?".  Graphic recording is a skill used to capture and summarize meeting content by using hand drawn pictures and text.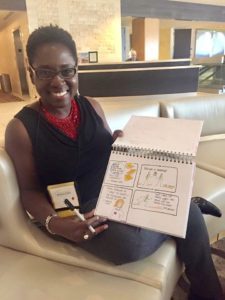 On Saturday, I attended the Reinvention Weekend business conference. My setup was very simple, I was sitting in the audience drawing in my sketchbook as I listened to the keynote speaker, Melinda Emerson.  When I finished graphic recording, I scanned the picture (see photo) and used the image in a short video that walks through the key points of Melinda's presentation.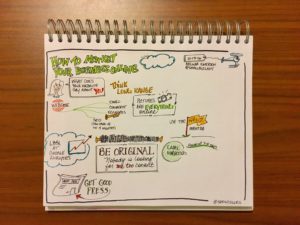 Sharing a video will help your participants refresh their memory after your meeting or event.  Don't forget the people who could not attend, they will really appreciate it and say "I felt like I was there!"  The video below is only 1 minute long but a rich takeaway for participants. Imagine sending your attendees a video like this.
We can help you use the power of visuals at your next event, to learn more click here.
Leave a comment below.
The following two tabs change content below.
Lisa
Visual Thinker | Graphic Recorder | Sketchnote Artist
at
See In Colors
Lisa Nelson loves to combine art with life. Lisa captures conversations with hand-drawn pictures so people can "see" what's being said. Her visual summaries range from business and leadership to community and faith. Her work has been featured in Entrepreneur, Ogilvy & Mather, and Social Media Week. She works locally in the Washington, D.C. area and world-wide.