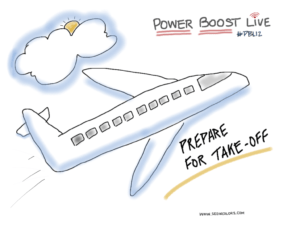 October 12-13, 2012 was Power Boost Live (#PBL12) weekend!
I flew to Phoenix, AZ to be a part of this wonderful community and work with Pamela Slim's marketing conference.    Pam Slim is a writer, speaker, and business coach who had the vision for this one of a kind conference.
Weeks before the conference started, the Power Boost facebook group was jumping with activity.
It felt like everyone was ready to see their business Take-Off.
That energy, combined with my long flight, gave me the inspiration for this picture.  "Prepare For Take-Off".
The 2 day marketing conference was packed with innovative entrepreneurs and business owners.  Attendees ranged from life coaches, speakers, and authors to artists and a drummer! I created visual summaries for 6 sessions which included 4 keynotes.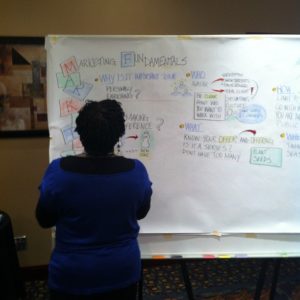 We learned that you can have the BEST business in the world, but if nobody knows about it, you're not in business.
Marketing is CRITICAL to being a successful entrepreneur.
See the visual summaries below for key-points, tips and insight.
Your Marketing Root by Pamela Slim
Marketing Fundamentals by Pamela Slim
Your Customer Life Cycle by Dan Ralphs, Infusionsoft
Your Marketing Presence by Cheryl Dolan
Prepare a Killer Launch by Tim Grahl
Reflections and Take-Aways
Click on any of the pictures below to enlarge or watch the slideshow.
Resources & Affiliates

Power Boost Marketing Program
I have personally worked with Pamela Slim and I am a part of the great community she has built.  I can't say enough about the take action mindset and support you will get when joining this community.  Check out the video and testimonials, you have nothing to lose.  To learn more,  just click here.

Escape From Cubicle Nation: From Corporate Prisoner to Thriving Entrepreneur
"Escape From Cubicle Nation" by Pam Slim is one of my favorite books on entrepreneurship. I love Pam's advice because she encourages little tests and experiments. Her approach helps you get "unstuck" and gives you the jumpstart to build and grow your business. Love it!  See all options available,  click here.
What marketing tip have you learned or used recently?  Comment below.
The following two tabs change content below.
Lisa
Visual Thinker | Graphic Recorder | Sketchnote Artist
at
See In Colors
Lisa Nelson loves to combine art with life. Lisa captures conversations with hand-drawn pictures so people can "see" what's being said. Her visual summaries range from business and leadership to community and faith. Her work has been featured in Entrepreneur, Ogilvy & Mather, and Social Media Week. She works locally in the Washington, D.C. area and world-wide.