Are you a caregiver for an older adult?  Okay, well I'm raising my hand 🙂
I am a caregiver for my sweet 98 year old grandmother so….
I was excited to work on this project about Family Caregivers in Montgomery County, Maryland.  The Montgomery County Commission on Aging hosted the meeting and I am so impressed by the work they are doing for seniors.  The meeting was held on Feb 28 at the Silver Spring Civic Building.
The conference room was filled to the brim with caregivers eager to share and learn about services offered in Montgomery County.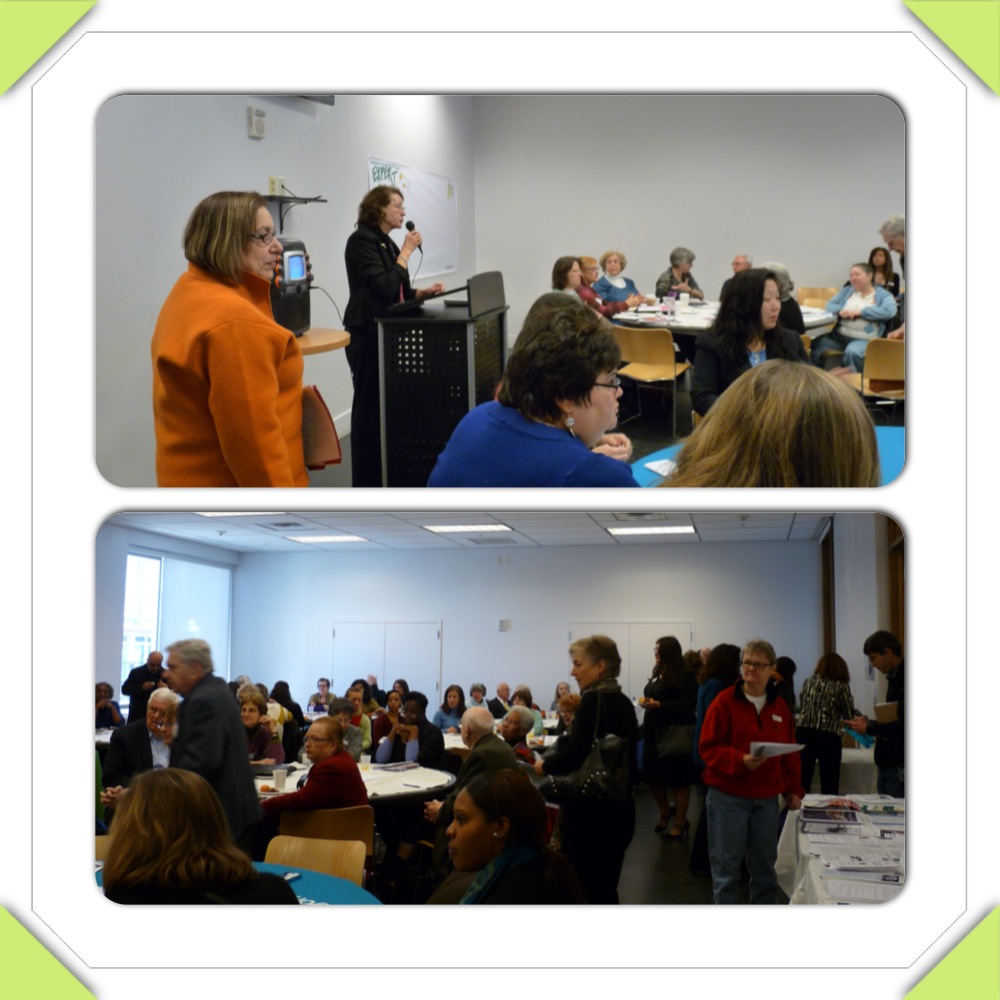 The meeting started with introductions by Odile Brunetto, Director, Montgomery County Area Agency on Aging and Judy Levy, Chair, Montgomery County Commission on Aging.
Elinor Ginzler, Sr Director, Jewish Council for the Aging  facilitated the meeting.  While Elinor guided the discussion with the audience, I created the visual summaries from the key points.
For a larger view, click the image to expand.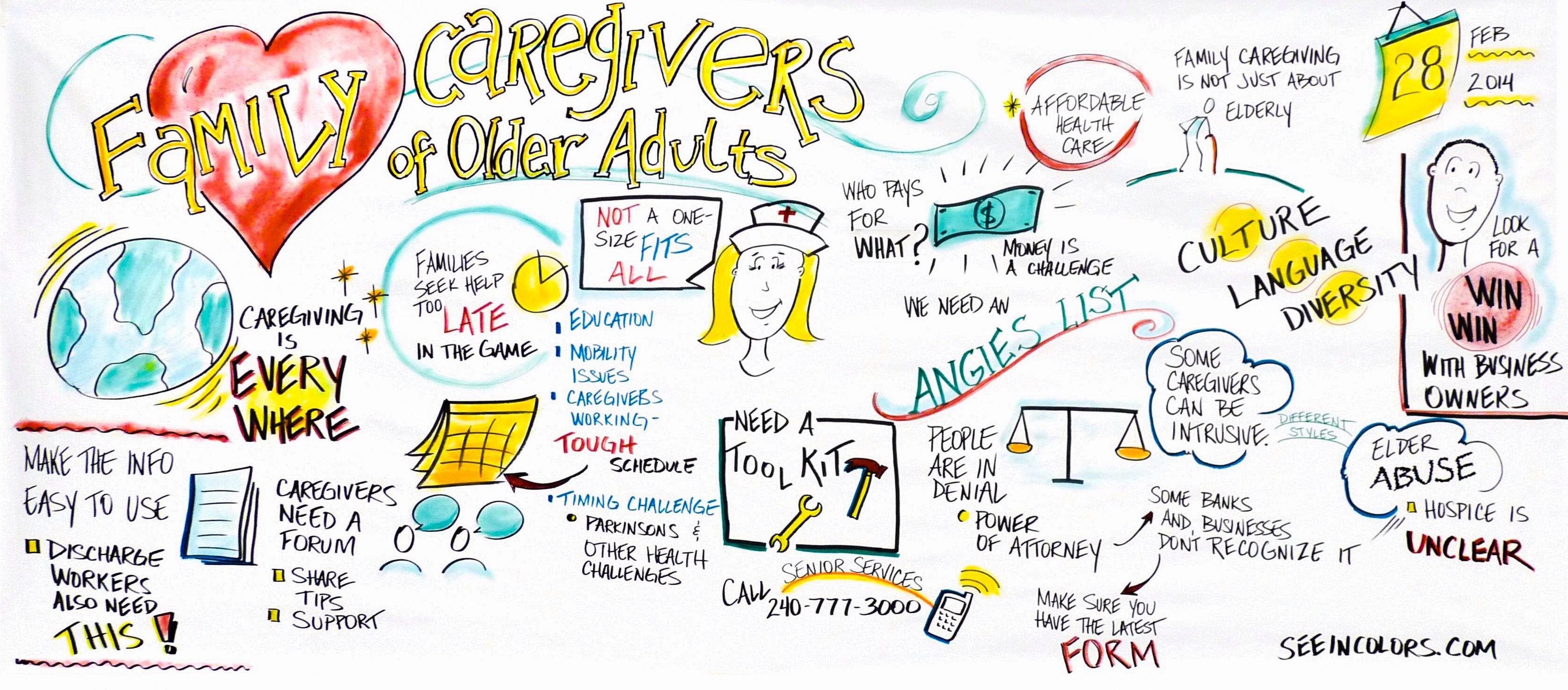 There was also a break-out session with subject matter experts on hand to answer questions.   After the session, each "expert table" did a report-out of the key topics covered at their table.   See my graphic recording below based on those highlights.
For a larger view, click the image to expand.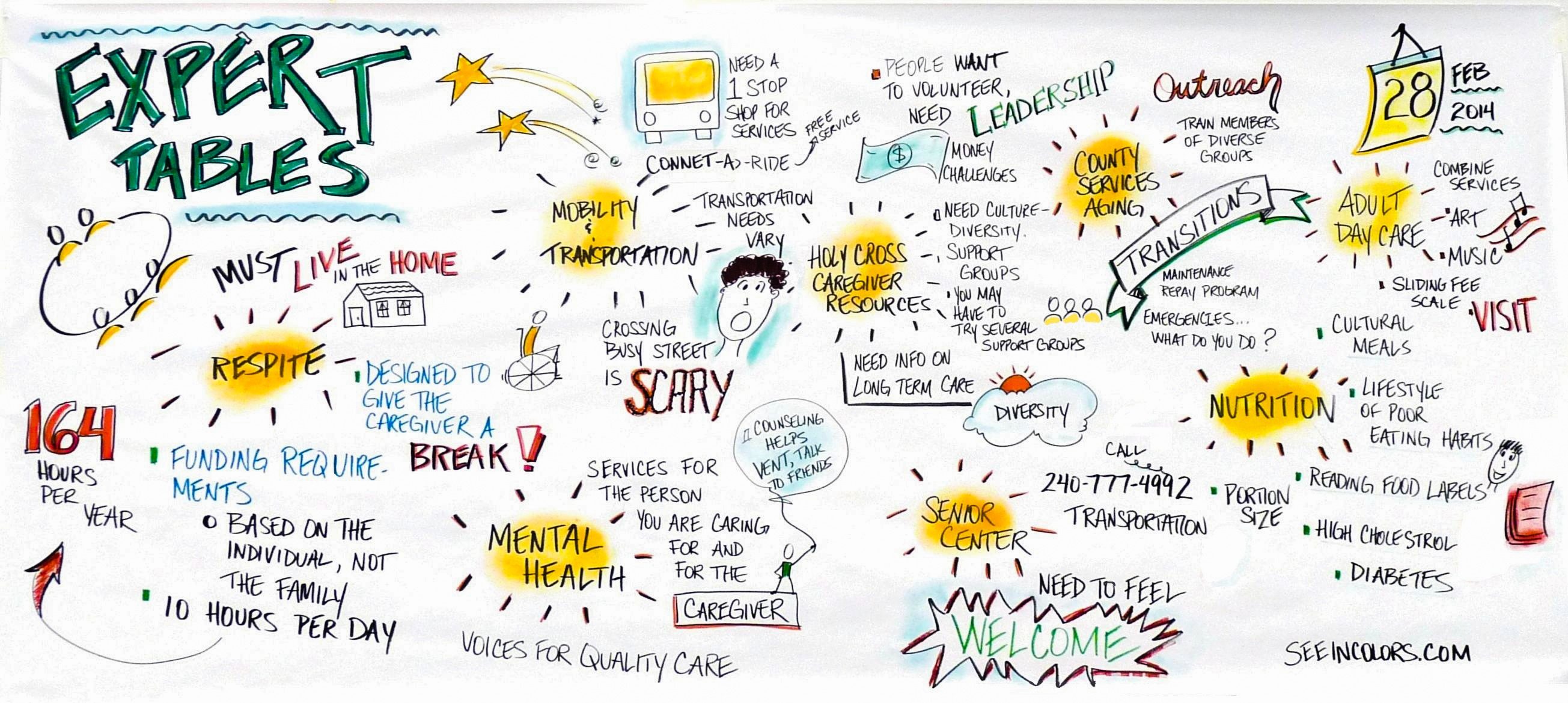 Using the power of graphic recording helped people see the connections and come up with new strategies for such an important topic.  I am so glad I was a part of this project 🙂
What's your experience as a caregiver? Can you relate to any of the points in the visual summaries? Comment below.
The following two tabs change content below.
Lisa
Visual Thinker | Graphic Recorder | Sketchnote Artist
at
See In Colors
Lisa Nelson loves to combine art with life. Lisa captures conversations with hand-drawn pictures so people can "see" what's being said. Her visual summaries range from business and leadership to community and faith. Her work has been featured in Entrepreneur, Ogilvy & Mather, and Social Media Week. She works locally in the Washington, D.C. area and world-wide.