The Pennsylvania Conference for Women (#Pennwomen) hosted an information packed teleseminar called "Building Your Business" with Melinda Emerson.  If you have a small biz and you missed this, you can check it out here.
Melinda Emerson, known to many as SmallBizLady, is America's #1 small business expert and publisher of Succeed As Your Own Boss.  I've heard Melinda speak many times and she always delivers the goods.  So glad I had a chance to hear this teleseminar.
If you are not listening to seminars and podcasts on a regular basis, I encourage you to give it a try.
Whether I'm walking my dog or driving my car, there is always time to hear something new that I can learn and apply to my business.
Listening is also key to my work as a Sketchnote Artist and Graphic Recorder, so this was a great opportunity to keep my skills sharp.
See my sketchnotes below from the session.
You can click on the image to expand.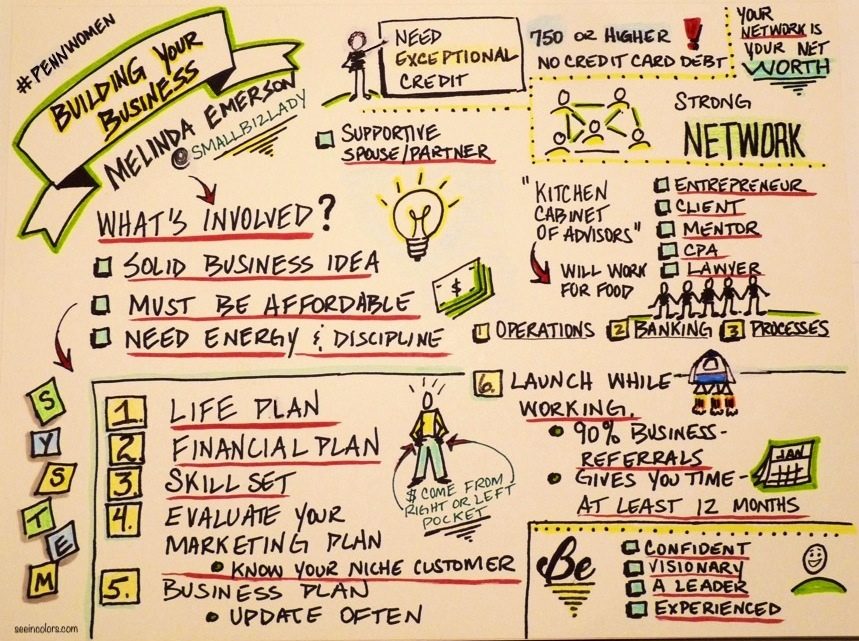 What was your biggest take-away?  What will you take action on today?  Comment below.
The following two tabs change content below.
Lisa
Visual Thinker | Graphic Recorder | Sketchnote Artist
at
See In Colors
Lisa Nelson loves to combine art with life. Lisa captures conversations with hand-drawn pictures so people can "see" what's being said. Her visual summaries range from business and leadership to community and faith. Her work has been featured in Entrepreneur, Ogilvy & Mather, and Social Media Week. She works locally in the Washington, D.C. area and world-wide.