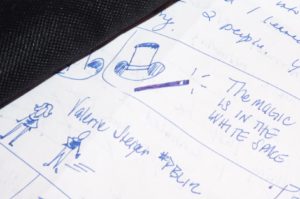 A few months ago, I had a great experience working with Pam Slim at her Power Boost Live event.  Wow, that was some conference (see blog post here).
Valerie Steiger was one of the featured speakers.  Valerie is a Master Coach and specializes in retreats, event planning and speaking.
Recently, I looked through my conference goodie bag and found pictures I made in my notebook during her session.  Valerie used lots of imagery while speaking which made it so enjoyable for me to draw, draw, draw 🙂
Valerie walked us step by step on creating a live event.  We all left the session wanting more.  The information she shared was actionable and practical.  Here are my favorite tips.
An event can be with just 2 people.  I never about it that way, but it's true.
Engaging the senses during an event makes it memorable.   FEEL, SEE, HEAR, SMELL and TASTE
Don't squeeze too much into the agenda.  People need breathing room.  The MAGIC is in the white space.
I took my favorite quote from Valerie and made this sketchnote.
Resources & Affiliates

Valerie shares her best tips for having a sensational event.  Check out her resources and learn everything you ever wanted to know about Live Events,  just click here.  She takes event planning to a new level; I experienced it myself at the Power Boost Live conference.
When was the last time you were at a magical event?  What made it magical?  Please comment below.
The following two tabs change content below.
Lisa
Visual Thinker | Graphic Recorder | Sketchnote Artist
at
See In Colors
Lisa Nelson loves to combine art with life. Lisa captures conversations with hand-drawn pictures so people can "see" what's being said. Her visual summaries range from business and leadership to community and faith. Her work has been featured in Entrepreneur, Ogilvy & Mather, and Social Media Week. She works locally in the Washington, D.C. area and world-wide.